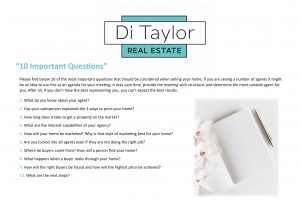 "10 Important Questions"
1. What do you know about your agent?
2. Has your salesperson explained the 3 ways to price your home?
3. How long does it take to get a property on the market?
4. What are the internet capabilities of your agency?
5. How will your home be marketed? Why is the style of marketing best for your home?
6. Are you locked into all agents even if they are not doing the job right?
7. Where do buyers come from? How will a person find your home?
8. What happens when a buyer looks through your home?
9. How will the right buyers be found and how will the highest price be achieved?
10. What are the next steps?
Please call Di Taylor Real Estate for your questions to be answered. 0400 884 665 or email – admin@dtre.com.au